LAB is pleased to start the Technical Service Contract for the new Chongqing Luoqi Waste-to-Energy Plant in China
This Contract with Chongqing Sanfeng Yulin Environmental Energy Co. Ltd. covers the Basic Engineering and Design of the "Zero Emissions" Flue Gas Treatment Plant for the new 3'000 ton/day in 4 trains installation to be built by Chongqing Sanfeng in Luoqi Town, Yubei District.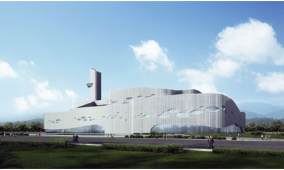 The "Zero Emissions" Flue Gas Treatment is a well advanced and efficient unit consisting in ESP, low-dust SCR, Economizer, Conditioning Tower, SecoLAB® process with maturation silo and polishing scrubber, allowing very very low flue gas emissions and no water discharge.
This engineering contract represents the first LAB reference in China for FGT design and consolidates the excellent relationship with Chongqing Sanfeng.
Chongqing Sanfeng Environmental Industrial Group Co., Ltd (CSEG), founded in 1998, is a large environmental group providing full chain services in the WtE industry, including project investment, construction, operation and equipment supply. It has dedicated to the waste to energy technology business since its establishment. Sanfeng Environment owns the biggest stoker manufacturing workshop in the world. It has continuously improved the waste incineration and flue gas treatment technology based on the study of Martin technology. Sanfeng Environment has quickly spread and applied Martin Technology to more than 119 production lines in over 50 projects and become the number one WtE enterprise in China, regarding the widest application of its technology.