Marine scrubbers - New contract
Hapag-Lloyd will test two scrubbers in 2019, ordering DeepBlueLAB™exhaust gas scrubbers for the "Hamburg Express" class.
For ten of its 13 100 TEU which were built by Hyundai Heavy Industries in 2014, Hapag-Lloyd AG has ordered offline DeepBlueLAB™ scrubbers from the German / French manufacturer LAB SA. LAB is one of the world's leading specialists in the field of emission control.
On land, LAB has more than 60 year's experience in waste gas purification systems and has successfully installed hundreds of different types of scrubbers.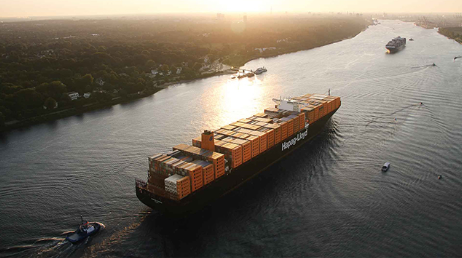 LAB had already gained its first maritime experience on the passenger ship SS France in 1960 with a soot removal facility. In recent years, more systems have been installed primarily on cruise ships and large RoPax ferries. Both inline and offline systems were installed.
At the time of installation in spring next year, the composite offline scrubbers for Hapag-Lloyd will be the largest systems installed on seagoing vessels. The systems are designed as hybrid-ready open loopscrubbers.